Course information & troubleshooting tips
General Information
It will take approximately 2 hours to complete this course.  
High speed internet is required.  The course is not designed for tablets or smartphones.
You need to create a username and password. Record this information somewhere safe, as it cannot be recovered if you forget it.
You do not need to complete the course at one time. You may save your progress and with your password you can return to the site within 30 days.
After 30 days of inactivity your username will expire. You will then need to create a new username and start the course from the beginning.
 
Troubleshooting
Chrome is the preferred browser to view all content.  
While taking Pause and Plan, each information box and activity must be reviewed and completed to proceed to the next page. If you receive the following error, please ensure you have clicked on every picture, box, text, link etc. on the page.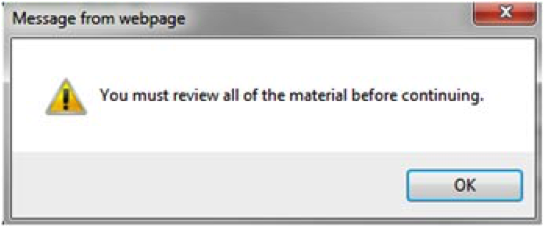 If you experience trouble seeing some of the content, you may need to allow browser pop-ups.
If you have a technical question about the course, email VSE@mbll.ca.  The email is monitored during corporate business hours.